Details

Parent Category: Onstage
Published: 08 July 2011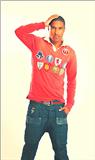 He's
one of the best rappers
in the DMV and
Yung Richie P
is ready for the wider exposure the July release of his new mixtape
"Uptown State of Mind"
is sure to bring. With features by Da Phuture, Jim Jones, Major Mayo, Chink Santana, Gangsta Villains, Boobe, and Briscoe, just to name a few, you already know that he's well respected and has come a long way from the music lover who started his own GoGo band when he was younger. His recently released song and video,
RACKS
, featuring Jim Jones and Major Mayo (Directed by the famous Chris Broadway Romero) has created a huge buzz in the DMV and Philly and NY areas. Ride with Yung Richie P by checking his Tumbler Page,
http://www.tumblr.com/tumblelog/yungrichiep
and following him on Twitter
@yungrichiep
and
@TeamYungRichieP
.