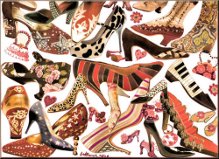 by Gwin Jean
There is something tremendously exciting about reinventing old treasures. Whether that treasure is a plaid shirt, leather skirt, a unique piece of furniture, or even worn shoes, the cool thing about finding one mans trash, is the obvious – it can be turned into your own treasure. The anticipation of getting off of work on a Saturday and heading to a thrift store or consignment shop is one of my favorites. Thrift stores were once frowned upon and looked at as places to discard clothes for the needy and less fortunate. But it's cool taking something that once had a weird stigma and appreciating it as if it were a fine piece of gold. The great thing about thrifting is you can walk into various thrift shops with an outfit in mind or a living room layout and come out with exactly that.  For example, you can take a piece of used furniture from a thrift store, and revamp it. You can go into a thrift store with a manifestation and come out with exactly what you envisioned. How convenient is that?
Goodwill and Value Village birthed me, I like to joke. It is where I reinvented my style and it is part of what made me an artist and made me unique in myself. I like thrifting because it is my excuse, as an adult, to play dress up. Big fur coats, metallic vintage heels, and sun hats. If you're looking to get a bang for your buck or a quick pick me up, the Goodwill is the place to go. Not only can you find cool clothes that you will see no one with, but you can also donate clothes that you no longer want. A couple of my favorite thrift stores or consignment shops are: Clothes Encounters- Second Kind, located in Eastern Market (here you can find your vintage hand bags and vintage shoes), Buffalo Exchange (they are a bit pricey for a thrift, and are along the same lines as a consignment shop, but have quality clothing and you can also exchange your clothes for their clothes or receive cash for the clothes that you bring), Goodwill (any Goodwill in Virginia usually has really good clothing and furniture, however, my favorites are the ones in Alexandria. Here you can find very reasonably priced designer jeans as well!), and also Value Village (any Value Village is good, but my favorite is the Capitol Heights location).  
So that's my shortlist of personal favorites for thrifting, and here's a great resource on Tumblr to get you even more excited. With the holiday season, and spending, behind us this is a great time to hit the thrifts and find that special treasure that's sitting there waiting especially for you!