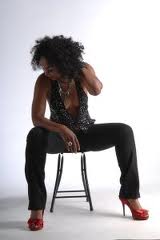 How do you become a real Diva in the music industry? The one that UK soul legend Omar calls for every US tour? Put in the work! And that's what Jenee Bevett, whose video "Unreasonable" we are so proud to feature in the OnStage Video Showcase has done.
Jenee developed her talent singing in the church choir as a child. Her mother is a pianist and her father a percussionist, and both sing as well. After college she began gigging around the DMV area with various bands and projects. That was 15 years ago! Her first live performance was with the great DC band Suttle Thoughts.
She's sung with Ja-Michael and Co., an acoustic project, then joined the band Congregation, led by David Boris. Following that, she joined with Cornell Pearce to co-found Alternate Root showcasing original tunes with a rock & roll edge.
For the past three years Jenee, Cornell, and Giovani Travez have been performing around the DMV area as the acoustic group JC featuring original music and covers of classic rock, R&B, and reggae tunes. You can, and definitely should, catch their next show on Thursday, August 18th (7pm) at the New Deal Café in Greenbelt, MD. And if you're a venue operator who wants to please the crowd with an ultimate professional, contact This e-mail address is being protected from spambots. You need JavaScript enabled to view it for booking information.