Everyday Style
Written by Administrator Tuesday, 02 April 2013 20:01




Well you can't exactly tell by the weather we've had so far in April, but we're almost there! It's time for the temperatures to start rising in DC and time to break out the fresh outfits suited for spring. The big trend in style this year is healthy looks through healthy living and that doesn't mean just fitness gear. It means natural hair, beautiful skin (for men as well as women!), eating right, and being well-rested. The perfect spring has a perfect breeze to it and that's also the style to shoot for this year; breezy and comfortable. If that's your look, don't be surprised to find your picture at OnStage in our #StyleSight section.
Written by Administrator Tuesday, 19 February 2013 13:04
Written by Administrator Tuesday, 14 August 2012 20:31

We were in the park on Sunday so we did what we always do; check out folks in the crowd for that combination of fashion comfort, poise and distinctiveness that are the elements of what we call Everyday Style. It's hard to define, but no matter where you happen to be in DC you'll spot people, and it could be any age, size, ethnicity or gender, that just have a certain flair for dressing in a way that elaborates their personality. It's not just the clothes or the hair or the accessories; it's the ease with which they wear them. It's nice to see. A couple weeks ago the theme was "Splashes of Yellow." On Sunday it was "Rolled-up Sleeves and Sunglasses." Take a look through the photo set. As always you're welcome to leave a comment or register and share you own photo album.
Written by Administrator Tuesday, 31 July 2012 13:07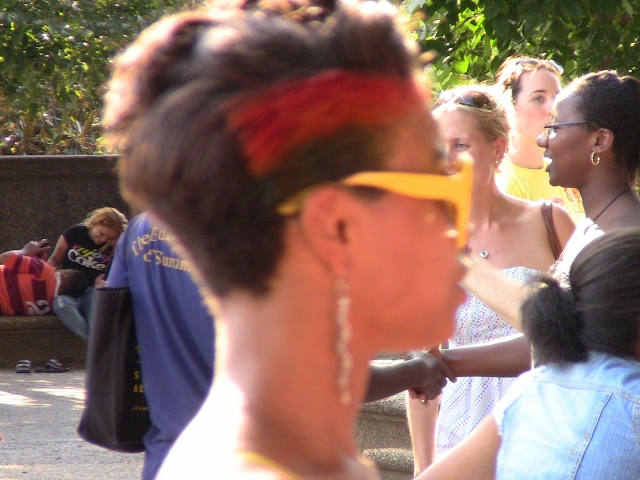 Yellow has always been an exultant color as a style choice. Bold and distinctive, it shines with optimism, happiness, and energy. We hadn't noticed it as much in our
photo set
from earlier in July, but last Sunday in the park,
Splashes of Yellow
were on full display. Yellow tops, dresses, skirts, and glasses and bright lemon yellow T's on the guys. DC folk were definitely doing their thing with their stylish selves!
Scroll through the new Everyday Style photo set
using the slide sorter to get the full flavor and leave a comment about the photo you like best.
Start
<
Prev
1
2
3
4
Next
>
End
>>
Page 1 of 4