Details

Parent Category: Onstage
Published: 05 May 2013
Catch the final production on May 9th at 7pm
By Natasha T. Brown
"I find value in seeing artists use their platform to create change and be about something more than just entertainment. I want people to understand that art and activism have historically been intertwined." – Khadijah Ali-Coleman, Writer/Director of "In Her Words"
Actress, Singer and Civil Rights Activist Lena Horne was a politically and socially-conscience artist/activist who used her platform to speak about the role of blacks in society. In 2011, area Journalist, Playwright and College Instructor Khadijah Ali-Coleman, founder of Liberated Muse Arts Group heard a 1966 interview with an outspoken Ms. Lena Horne. Ali-Coleman, who is no stranger to research, explains that she was "floored by the interview," in which "Lena Horne was talking about race [and working for] 'the man'," she said.
Ali-Coleman began to research Horne and other great entertainers and writers like Nina Simone, Zora Neale Hurston, Billie Holiday and Lucille Clifton. She wanted to honor these great women, hence came "In Her Words," – a short 40 minute theatrical piece with music (not quite a full-length play) that is told from the perspective of a college student who is learning about some of her favorite female creative artists.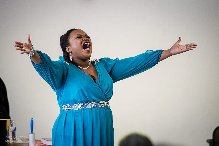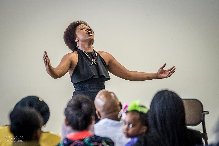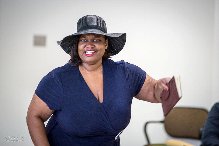 According to Ali-Coleman, as the student does her research, with the help of her adviser, the ghostly angel and poetic goddess Lucille Clifton, she learns some backstory on Billie Holiday, Zora Neale Hurston, Lena Horne and Nina Simone.
This Thursday, May 9, is the final show of "In Her Words," 7pm at Charles E. Beatley Central Library in Alexandria, VA. The show is free and donations are welcome. (Click to watch the trailer.)
Below Ali-Coleman shares more about "In Her Words." This theatrical production is an important opportunity to be inspired by the historical social responsibility legendary black artists possessed.
What inspired you to write the play?
Ali-Coleman: I studied African-American Studies and Mass Media…I'm an academic, teaching Communication Studies at Prince George's Community College and Northern Virginia Community College, so research is in my blood. I hungrily went home to research more about Lena Horne and her role in the civil rights movement and was transfixed by learning that Lena Horne was not only the first Black woman to sign to a major movie studio, demanding to never be commissioned to play a maid, but was someone blacklisted during McCarthyism because of her outspoken beliefs and association with the late great Paul Robeson.
I went on to research the interviews and footage of other great entertainers/writers who inspired me…and decided to do something to honor these women and to highlight, not just their art, but their voices as politically and socially conscious citizens as Black women artists. Living in politically dangerous times when lynching was commonplace, discrimination rampant and Jim Crow still the law of the land, all of these women challenged the status quo in some way, leaving their art as their triumph.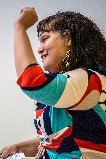 "In Her Words" is what I call a theatrical musical presentation, not so much a play, so-to-speak. The theatrical moments are actual re-enactments interspersed with fictional dialogue between Lucille Clifton and an original character.
Describe the plot and the main messages you are conveying in "In Her Words"
Ali-Coleman: My intent with the show is to provide a dimensional look at some popular artists who we may know in reference to their art, but very little when it comes to their impact on social movements. As not only a writer, but a performance artist as well, I find value in seeing artists use their platform to create change and be about something more than just entertainment. I want people to understand that art and activism have historically been intertwined. 
Tell me about the cast and their significance in bringing out your vision?
My cast is amazing. Singer/actress Quineice plays Billie Holiday; Singer/Actress Anisha Newbill plays Nina Simone; Singer Nia Simmons plays Lena Horne and Actress Lyn Artope plays Zora Neale Hurston. Newcomer Naomi Rose plays Cass, an original character who helps lead us into the historical moments. She dialogues with the ghost of writer Lucille Clifton who is played by Jazz Singer/Actress Colie Williams.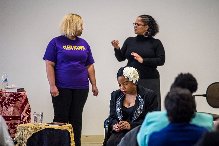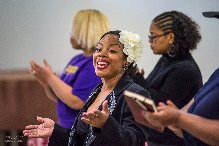 All of these women are brilliantly talented. I am always approached after each show by audience members who gush about how they are impressed with the professional quality of the show and the stellar talent of my cast. All of their portrayals give folks goose bumps. All I can really say is that people need to come out and see the performances themselves. They will certainly be in awe.
Make sure you attend the third and final show this Thursday, 7 p.m. Charles E. Beatley Central Library located at 5005 Duke St, Alexandria, VA 22304.
Visit Ms. Ali-Coleman online and follow her on Twitter @KhadijahOnline.
Visit http://www.InHerWordsTour.com to stay up-to-date about future performances and news.
Photos courtesy of Gary Young Photography 
Natasha Brown is a writer and founder-communications strategist at
Think Brown INK
, a creative think tank and social responsibility branding agency for artists, entertainers and entrepreneurs. Follow her on Twitter
@NBrownINK
or
@TBINatasha
or her company
@ThinkBrownINK
.