Details

Parent Category: Onstage
Published: 27 January 2013
Whether you're planning an event, creating an image, making a video or enhancing your style/fashion, music or home, you always need a creative group of people whom you can call to add that extra oomph to your projects. You may know some of the artists in today's #SophisticatedSunday, but many are operating quietly in their own creative parts of the (DMV) world. I invite you to meet, greet and please support this group of incredibly creative people. You will be amazed at what they can do!
1. Painter Briah Neale @AdoraBriah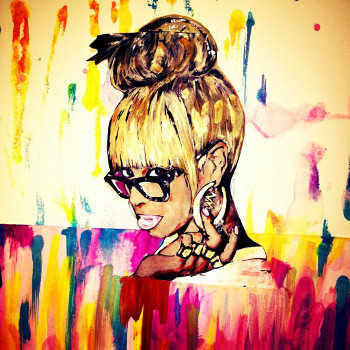 Last month, this amazing young artist received an instant stamp after Beyonce' recognized Neale for the gorgeous painting above of the international superstar. Briah Neale lives in Baltimore and we can tell she has a bright future ahead. I imagine she'd be an amazing person to work with if you want to spice up your white walls or add extra flavor of creativity to an event.
2. Filmmaker/Director Alex Acosta, Prestige Filmworks @AlezzyWorld
You've probably seen Alex Acosta's work on BET, MTV, WorldStar Hip-Hop and many of the top entertainment sites through the videos of Meek Mill, Wale, Wiz Khalifa and more. Alex has great industry connections, a great deal of professionalism and experience to bring music to life. Visit http://prestigefilmworks.com and check him out.
3. Jewelry Designer/Writer, Alex Elle. @AisforAlex
Alex Elle's jewelry is unique and addictive and it seems to be popular, as many of the pieces I had my eye on had already been snagged. Check out her web site for gorgeous handcrafted jewelry at alexelle.com.
4. Fashion Stylist/Creative Director Apuje Kalu @Apuje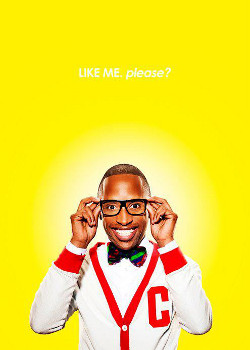 Apuje comes highly recommended, and is an absolute genius with style. He's worked with many national and local favorites, including Black Alley Band and is also the fashion editor at 360 Magazine. A great stylist is always an added benefit when you're shaping or creating a client's image. Visit Apuje online at http://apujekalu.com/.
5. Food Enthusiast Ashley Evans of Kreations by Kupcake @KreationsBykupcake
"I live for food! I love to experiment with food. I love to cook! Baking and cooking is something that must be from God and in my blood that naturally comes to me."
Ashley "Kupcake" Evans, has been creating exquisite dishes and desserts for years, and recently turned her love into a business, Kreations by Kupcake. Her cupcakes are absolutely delicious and the presentation of her entrees is just as mouthwatering as the meals themselves. Her goal is to provide an unforgettable experience with every dish. Check her out at www.Facebook.com/KreationsBykupcake.
6. Owner/Nail Tech Cre Marie of Cre8tions Nail Spa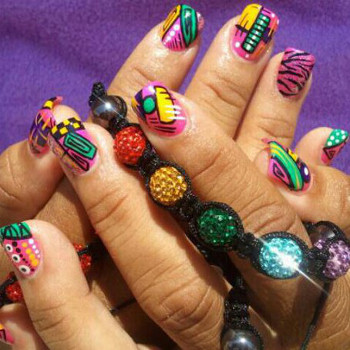 From bows that pop of your nails, to sparkles, jewels, lots of color and much more, this new nail spa in Clinton, Maryland takes no shortcuts on creativity. If you're about to hit the stage, the town, a photo shoot or event, swing through Cre8tions. The shop also has a great atmosphere for kids. Cre8tions has a comfortable feel and client satisfaction is their highest priority. Check out the Facebook page.
7. Celebrity Jewelry Designer Deborah Mdurvwa of Mdurvwa Collection @Mdurvwa
Ladies: Trust me when I say your jewelry box isn't complete until you have a few hand-made pieces from Deborah Mdurvwa. She's worked with the likes of Mya, Sunni and the City (WPGC 95.5), Erica Mena and moi! If you like shiny pieces, metals, color, big or small, she's your gal. Her designs can easily compliment your alluring nightlife looks or hip-hop sexy. Check her out at http://www.mdurvwa.com
8. Fashion Stylist Erana Tyler of The Trend Bureau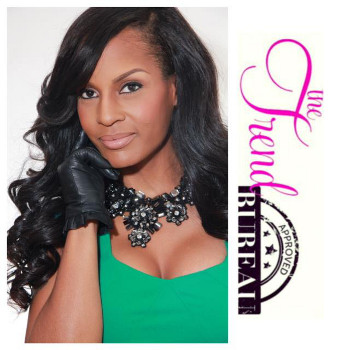 Ms. Tyler is the go-to lady if you want to create a high fashion look, quickly and creatively. She is up on current fashion and always appears as if she stepped off of a runway and into a magazine. I'm always in awe by her use of accessories, color and know-how to choose exactly the right garments to fit her clients' figures. Check her out on Instagram at TheTrend_Bureau or on Facebook,
9. Producer J Rob of Hard Hitterz, Inc. @JRobOntheTrack
Producer J Rob is a rising young producer whose credits include Yelawolf, Redman, Wiz Khalifa and many more. I've worked with a ton of producers through client projects and I'm always thoroughly impressed with J Rob's creative abilities, and interpretation of an artist's vision. Check him out.
10. Dancer/Choreographer LaTonya Swann of Seize the Dance
Ms. Swann was the first winner of BET's Born to Dance with esteemed Choreographer Laurieann Gibson. Her work will leave you in awe. She recently opened the Seize the Dance studio in Capital Heights, and can you believe she offers dance classes for just $10, among a variety of other services? Her passion for connecting and supporting area talent is commendable. Support her – a young entrepreneur with an amazing spirit: http://latonyaswann.wix.com/latonya-swann
11. Dancer/Choreographer Lela Wilhite of LelaBelle's Dance Studio @MsLelaBelle
Lela Wilhite recently created LelaBelle's Dance Studio, which is carving a creatively cute lane in kid dance parties, fit with tutus and leotards plus choreography to the latest hits. I had the pleasure of working with Ms. Wilhite at the recent "Get Kids Movin'!" Fitness and Fashion show with Sports Zone, and kids were crying because they just wanted to dance! Contact LelaBelle's she's a joy to work with.
12. Special Event Designer/Fashion Industry's Go-To Producer Maggy Francois @FancyFrancois
The DC area has a great creative genius in Maggy Francois, the absolute best fashion show producer in our area. In 1996, Maggy Francois began her stylish career producing fashion shows for clients up and down the East Coast. With unmatched talent and vision, she launched Maggy Francois, a self-titled special event production company in 2000 committed to "creating the unimaginable" featuring fashion's biggest names, featuring: Project Runway winner Anya Ayoung Chee & Christian Siriano, Korto Momolu, NBC Fashion Star, Nikki Poulos, Betsey Johnson, Amsale Aberra, Francis Hendy, Jerell Scott, Reco Chapple and Carol Hannah Whitfield & well known local designers. Her ultimate goal has always been to increase awareness and bring visibility to the fashion design industry through productions and education. Visit her online at MaggyFrancois.com.
13. Graphic Designer Nikki Williams of Inezi Design Studio @inezidesigns
One great trait about Inezi Design Studio that hits home with a PR gal is the ability to create sleek and classy branding pieces OR grunge-like urban designs. Ms. Williams, the chief executive officer at Inezi Design Studio knows how to do both really well. She's also quick and easy to work with, which are a must in this industry. Visit their Facebook page while the web site is under construction http://www.facebook.com/inezidesignstudio
14. Interior Designer Sherry Burton-Ways of Kreative Ways & Solutions, LLC. @KreativeWays
Ms. Ways creates spaces that inspire! She's an artistic mind who considers eco-friendly materials, comfort, her clients' lifestyles and preferences to create perfect spaces. "Your space is a reflection of you: your tastes, your style, your memories, your goals, your health and wellbeing. By becoming conscious of and working with your surroundings, you can create an environment that works in alignment with your personal and professional objectives. Your interior is a catalyst for the change you are seeking," per www.kreativeways.com.
15. Event Designer/Experience Producer Shondra Brown Hawkes of LiveWire 99 Entertainment Event Planning & Décor @livewire99
If event design, floral pieces, creative solutions for productions of big events and the overall beauty and aesthetics are important, Shondra and LiveWire 99 should be one of your first choices. It's a gift to be able to take someone's visions, dreams or ideas and bring them to fruition. Whether you're planning a party, wedding, celebration or meeting, there are no boundaries to what will await you with LiveWire 99 Entertainment decorating your special occasion! http://www.livewire99.com
Happy planning and good luck building!
Stay Sophisticated.
Natasha Brown is a writer and founding communications strategist of Think Brown INK, a creative think tank and strategic communications agency in the Washington area. Follow her on Twitter @NBrownINK or @TBINatasha or her company @ThinkBrownINK.