Details

Parent Category: Onstage
Published: 16 February 2016
1. So let's get the most obvious question out of the way first; you're from Australia and now recording and performing in Atlanta. Other than the fact that she raps while you are a singer, is that where any comparisons between you and Iggy Azalea end, or are you two otherwise acquainted?
Yeh i guess… well we're both blonde too, and work our asses off so I'm sure there are some similarities but musically I dunno. I mean we're both pop I guess. I'm kinda into her. I rock her cd from time to time. Gotta support the Aussies!!

2. You're signed with Defient Entertainment. Was that a goal, and why do you think it happened for you?
I actually left that situation. No big deal, just wasn't the right fit. I'm still affiliated and work with my friends from the team. It was weird how I got in with them. I went to one of Tip's artists at the time listening party, Spodee was the artist and weirdly Tip came up to me, I think thinking I was someone else, but it caused enough attention that a lot of people came up to me and gave me their card and eventually I met with Will, one of the A&R for Defient and it went from there. Literally a bit of a fluke but my song Running On Concrete got me in the building I guess long story short.

3. How has being in the States, particularly in Atlanta, helped your career as an artist? What have you experienced or learned that would not have been available to you somewhere else?
It's definitely broadened my range. I always wanted to write hooks for hip hop ever since Dido was on the hook for Eminem's song Stan. It just really appealed to me. So I got to finally do that in a bigger capacity and work with a lot of amazing Atlanta talent. And from that it's widened my network. I get to work with some crazy good producers. It's just a bigger network than Australia.

4. Tell us about musical influences both in and out of your genre. Whose style have you studied and what have you taken from those studies and applied to your way of performing?
Mannnnnnn lol I have so many influences. Like my friend Visto is an influence now! I grew up on the Beatles, Etta James, Frank Sinatra and Billie Holiday. Roy Orbison is like my favourite male vocalist, but I guess more recent influences are Portishead, Kanye (for breaking boundaries always) Sia. I mean all music influences you I feel to some degree. I've never sat down and studied someone I don't think. Not consciously. But I always read these interviews back after answering these type of questions annoyed that I've forgotten someone amazing.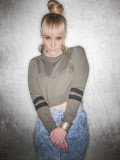 5. Describe your creative process as a songwriter. Do you hear the melody first and write to that, or are you inspired to get the words on paper and then match them to beats?
I definitely get a melody first, although the other day I had a beat played to me and immediately saw pictures of war and ran with a sentence first before a melody, but mostly melody first. I have phrases or short thoughts that I write down in my phone to keep for when I'm stuck :) it happens.

6. You've spent a lot of time in the studio, yes? A lot of artists don't understand how prepared they should be before they get to the studio. What are some tips you'd give artists on how to be ready for a studio session?
I do spend a lot of time in the studio. It's like my favourite place to be :) I think it's always good to have something up your sleeve. Even if it's just ideas and no melody. For me I get as much work done at home before going in. To me the studio is time to record rather than write. Tips? Hmmmm don't waste peoples time. Be nice to your engineer. They can make or break you! Pay attention to everyone around you and treat everyone equally. The Studio is a great way to network and be heard. Sometimes it's not a bad thing to turn up a song you just finished and crack the door wide open (accidentally of course). But mostly just remember it's your time, use it wisely and work your butt off in there. That's your office.

7. You've got some songs and videos out there that folks can check on your YouTube channel. We have two of them in our Video Showcase; "Waiting" ft London Jae a silky smooth collaboration, and "Trouble" which is visually stunning and high energy and shot by Minista Millz. What are your favorite parts about making videos?
Argh everything. I think doing videos is like my favourite part of being an artist. Like I love it! Putting pictures to your words, the whole build up of editing and putting it together. If I could do a video like every week I would. It's so fun. Shout out to Millz tho!!! 

8. One of our favorite artists anywhere is the Head Hippie, Visto, who actually drew our attention to you. You did a fantastic song and video with Domani Harris and him – Namaste – classically inspirational. What else have you two done together or should folks be on the lookout for?
Visto is on my ep :) the song is called Coma. We kinda signed to Defient at the same time and immediately were drawn to each other's music. That's my mate for life! He has a song with myself and Gold Griffith too. We both have a couple of little things coming up with each other on it. And, I'm sure it won't be long before we do some more stuff together. I love his whole movement. I love Pinky's vibe too. They're soooooo dope to me and have been so supportive towards my music always. And it goes both ways. Ima support Visto forever. If y'all could see how ridiculously talented he is in the studio it would blow your mind. He leaves me speechless honestly.

9. Your first album is coming right? How is it going? Do you have release dates firmed up?
It's an EP called The Path. It's done. I'm waiting for one feature to be done and then it's off for mixing and mastering. I'm about to release the first single from it called The Path and then I'll choose a date from there, but it will be spring :) I'm really excited, it's my first body of work. I can't wait to put it out there.

10. What about touring? Are you doing some now or waiting for the album to drop? And what would be the top five cities (DC has to be on your list) where you'd like to appear?
Right now I'm in Toronto writing and doing shows. I wanted to come here because the live scene is so rich. I'd heard so much about it. I did a show at Rockpile the other night and it was mind-blowing. Toronto is like the best place to do shows. People are craving new sounds and embrace them. I dunno I have never seen anything like it. I'm already onto my next project and back in the studio. Top five cities, DC definitely! LA, New York, Sydney Australia, Toronto and London would be amazing but thats not to say the other cities on my list are invalid. You only gave me a top 5 and oops I put 6 :) I can't take any out sorry lol but definitely once the EP drops I'll plan a tour. Visto and Goldy and I have been talking for a while about a mini tour and I know we all have projects coming out around the same time so hmmmmmmm you never know!