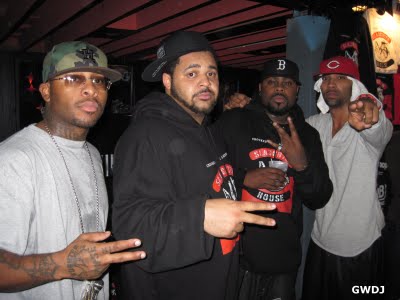 I have been a fan of Slaughterhouse almost since their inception. When I heard "The One"before their debut album was released, I was sold on their chemistry. If you know anything of their preceding solo careers, then you too must have been overcome with the news of them signing to Shady, where they could finally get the big push that they deserve. Let's face it, there really aint much being offered from major labels these days, at least not for those that love real music with dope beats AND lyrical substance.
From Royce's Bar Exam series (amongst others), to Crooked's incredible Hip-Hop Weeklys, Joe's Mood Muzik series and the 2 unbelievable solo albums from Joell; all of these artists had already shown the world that they were formidable on their own. Possibly setting the bar so high that even the group couldn't make the leap. Trust me they did not disappoint on that debut and they are keeping it going on this project. "The Slaughterhouse EP", their first release on a major, has only one flaw that I can see – its an EP. There are only 6 songs on the project and if you are a frequent music blog visitor you may have already heard one or two. But the good news is great. The opening salvo "Back On The Scene", is not only a great showcase for some super similes from these fantastic four, but the chorus hearkens back to hip-hop's Golden Age, with the chorus interpolating a line from everyone's favorite Black Sheep song (and if you cant look at the title and tell which song/line that is you may want to stop reading now). Overall this is a really solid project with mid tempo grooves that manage to stay out of the artists way and some top notch lyricism. The only guests invited to the party are the revered vets out of Yonkers, The Lox. They chime in and manage to help push "Put Some Money On It" to NASA level heights. I personally am not a huge fan of Sheek, but his verse is buttressed by standout contributions from his brethren that make his sound great as well; it's one of my favorite cuts. They wrap the project with the monstrous "Move On", where the introspective lyrics and the smooth piano chords make this one hard to not like; definitely rewind material.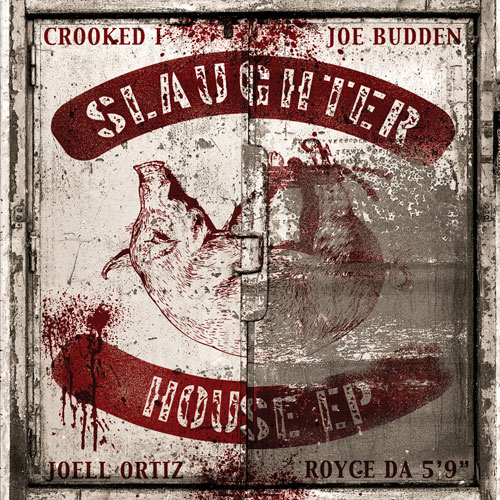 To be clear, the only reason I did not quote any of the outstanding lyrics on this project is because I would have been up all night trying to decide which ones were the best for this article. There are just so many sick couplets, rating them is flat out impossible. I suggest listening for yourself to decide but I warn you, it will take several spins to get them all because you will constantly find yourself tripping on some line only to realize you just missed two more while you were thinking. Bottom line - - "The Slaughterhouse EP" is well worth the purchase price because its almost like getting 4 albums, you could really enjoy this thing like its new each time by just focusing on one emcee on each song! One song "Sun Doobie" is produced by Mr. Porter and he tags the front with a female saying something that really applies to the group as well and sums up my thoughts. She says "You get more for your money when you f*ck with [Slaughterhouse]. Happy listening!