Details

Parent Category: Onstage
Published: 24 September 2015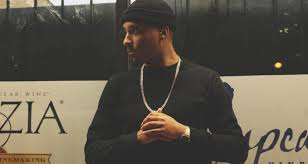 1. You just hit Soundcloud with a track, "that I HATE YOU love" that's getting a lot of attention and replays. It's one of the most creative things we've heard lately because it's not the normal "I'm a baller/killer/flashy" lyrics folks are putting out. It's actually a real slice of life. What's the inspiration behind it?
Well honestly I went back to a couple of my past relationships, and basically did some self-reflecting with that track, its many times where we as people like to play the blame game on why something didn't work, but I just wanted to showcase my insecurities and the bullshit I was putting these women through, and basically how the tables can be turned on you as well. It's not solely based on one situation, but it was an accumulation of different things.
2. You're a multi-talented creative. In addition to the project you're about to drop we've also noticed your work behind the camera. Which came first, and did one lead to the other? 
Well I always rapped, since I say 5th grade, but didn't get serious about it up until 12th grade, however shooting videos, and branching off was something I did as a hobby once I got in college. I've always been pretty good at anything I put my mind to, but it was something about making my ideas come to life with some type of visualization that always connected with me, so I figured hey let me get good at this as well.
3. Talk about the music scene in the DC area; is this the right place to be for an emerging artist? Is the ecosystem supportive enough? Collaborative enough?

I think its pretty good on an artist level as far as like my peers and shit like that, I don't necessarily believe that we are keeping each other down honestly. Yeah a lot of times people say we practice the crab in the bucket mentality, but honestly that's EVERYWHERE, however I think some of the people in charge in this area, some of the gatekeepers, aren't doing their job, they dictate nothing that comes from this area honestly, artists are having to move to completely different regions in order to get on, and I think that's a problem.