Details

Parent Category: Onstage
Published: 06 April 2012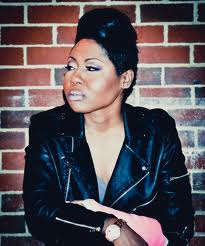 I am going to start this review by stating my conclusion upfront: I believe that RAtheMC will one day be mentioned amongst the pantheon of elite female MC's that includes the likes of MC Lyte, Queen Latifah, Lauryn Hill, Salt-N-Pepa, Bahamadiah and, Da Brat. Now let me get into the review of her latest offering, The Grace Jones Experiment, which will detail some of the reasons I have come to that conclusion.
The album/mixtape is bookended by an intro and outro track titled "Jesse Boykins III" which features Ra giving the listener insight into why she chose the title of the project and what to expect, and then telling them her hopes for what they get out of it at the end. Both of those tracks also feature airy vocals that provide their own narrative to the project sung masterfully by, I'm sure you have guessed by now…Jesse Boykins III. That type of almost academic approach to beginning and ending the album give the listener a cue as to what is in store: something that the artist obviously took her time to actually THINK about. So much Hip-Hop music today is just a stream of throw away cliché-brand name-trending topic-latest gadget mentions strung together in a semi-entertaining fashion over a beat that sounds good on club speaker systems. That's fine, if all you want to do is dance, but for those of us that actually grew up on Hip-Hop and revel in hearing it when it's done well, we are often left wanting. RAtheMC definitely does not fall into that category.
---
Specifically speaking about this project though, there are some really good beats on here - from producers like P. Murph (Million Miles Away, Brand New), Lil Dope Boy Fresh (Believe), Slash Water Boy (Write It Down) and others, along with a some neo classics including The Rain produced by Timbaland and Dead Wrong which was originally done by Easy Mo Bee but the version here is the Hitmen produced remix. So let it be known that RA knows how to pick a beat. She also knows a thing or two about marrying good beats with great vocal performance as well. I said it that way because RA doesn't just rap. Another thing that makes her stand out from the pack is that she can effortlessly weave back and forth between rapping and singing. In the current market where Estelle does this with great aplomb but firmly plants her feet in the R&B world and Nikki Minaj does it but plants her flag in the pop arena…it seems there is definitely space for this to be done well in Hip-Hop (since Lauryn appears to be gone for good). The line that once existed between R&B and Hip-Hop has been slowly eroding since Jody Watley collaborated with another great MC nicknamed RA (the track was called Friends for those of you who don't know or didn't remember) and has now officially vanished. While others are doing it too, not everybody makes it work. On the song Million Miles Away, RA successfully manages to essentially make a modern R&B record where her poignant rap at the beginning of the track sounds like a feature on her own song! Then she reverses that aesthetic on the uptempo "Believe" where she gets her man on the raps (with some well placed beat drops to highlight her witty wordplay) and RAtheSinger comes off as a featured R&B siren.
Throughout the project RA sprinkles samples of the real Grace Jones in interviews and even one from Boomerang where her character is being introduced and it comes off like she got Grace to agree to be the narrator. The clips speak to themes that RA mentions in her lyrics and the image which she has carved out for herself (an image that is diametrically opposed to the current trend of female MCs). The samples do one other thing for me, and that is they identify RA as an artist who painstakingly works at putting together a cohesive project that gives the listener more than just music and says she is not afraid to get her manicure dusty by digging through the crates to pull that off. This is Hip-Hop artistry at a very high level!
For fear of being too verbose Im going to quickly run through some other highlights. For those who are from DC , NE especially, "Where Brookland At" is a real treat as Ra navigates her way through familiar streets (and for those not from DC, No that is not a typo). Though Ra keeps features at a minimum here, Phil Ade really brings a lot to "Fall Back" with great lyricism (how many listeners even know what an estuary is) and energy and Javier Starks comes through with terrific flow bouncing between double time and standard with ease. Hopefully no one is offended by her use of "OJ Simpson" in her metaphorical murderfest, it's another standout cut. On "The Pain" RA flips the familiar beat to a more meaningful statement on her journey and her abilities. Finally "Brand New" is definitely one of my favorites because of both the autobiographical storytelling elements and because of the inspirational tone that is worthy of a Willie Jolley or Zig Ziglar. There are many other highlights as well both musically and lyrically but to sum it up, these have been the main reasons I came to my conclusion: The Grace Jones Experiment places RAtheMC head and shoulders above much of her competition and really leaves the listener anxiously anticipating her next offering, which will hopefully be some big splashy major label debut!